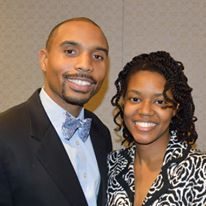 Pastor Donald C. McKinnie, PhD.
Pastor McKinnie is a native of Prince George's County, Maryland and grew up as the eldest of three children in a loving, Christ-centered family.   

When Pastor McKinnie reflects on the story of his life, he is amazed to see how God has guided his steps. He recognizes how the influences of his home, church and school helped him find a personal friend in Jesus at the age of sixteen.  Soon after this experience he sensed God calling him to a life of ministry. 

In answer to God's call he began preparing for pastoral ministry by studying theology at Washington Adventist University (Takoma Park, MD).  After graduating, Pastor McKinnie continued preparing for ministry at the Seventh-day Adventist Theological Seminary at Andrews University (Berrien Springs, MI), where he obtained a Master of Divinity degree.  He also went on to complete the Doctor of Ministry (DMin.) program with a concentration in Urban Ministry.

Pastor McKinnie enjoys serving God and people.  In addition to providing spiritual leadership in a congregational context, he has been blessed to serve in a variety of ways.  These rewarding experiences include working with high school and college students in campus ministry outreach, giving personal Bible studies in people's homes, coordinating prayer conferences, distributing Christian literature, and being a phone chaplain at a call center. 

God has blessed Pastor McKinnie with a beautiful family. He is married to the former Lahai Allen of Miami, Florida.  They met while attending Washington Adventist University. Sister Lahai McKinnie is a woman of many talents, including being a skilled writer and editor.  She is also a professionally trained social worker.  Since their wedding in 2006, each day of his life has been sweetened by the ever increasing fragrance of her companionship.  Together they have three young children—Nathan, Eden and Christian. 
   
Pastor McKinnie finds delight in quality family time, the beauty of nature, playing basketball, learning about history and talking about the goodness of the Lord. Pastor McKinnie lives with the confidence that "all things work together for good to them that love God" (Romans 8:28) and is persuaded that the decision to be a follower of Christ is a "no-lose" proposition!

You can read Pastor McKinnie's blog, "Words Fitly Spoken", at pastormckinnie.blogspot.com and follow him on Twitter @pastormckinnie.